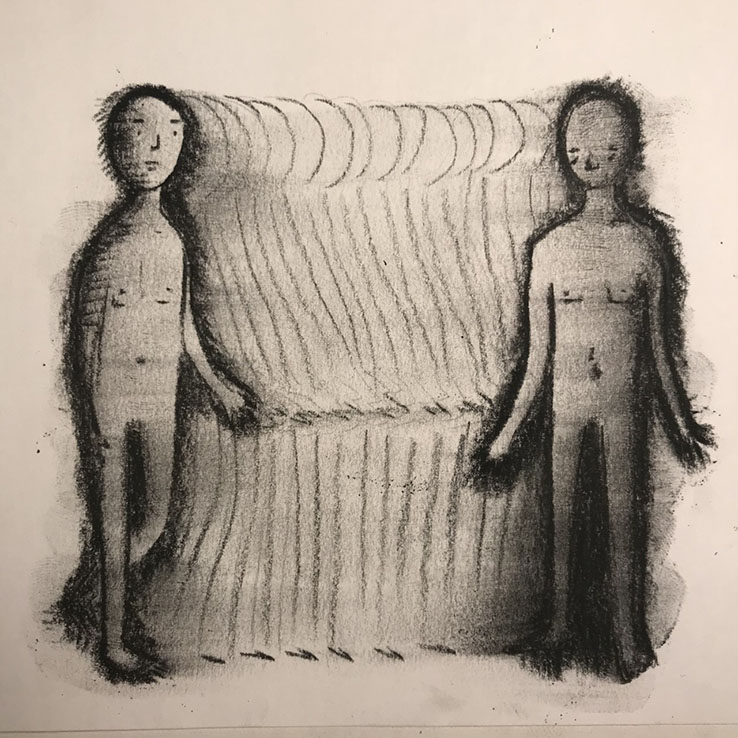 Ce dessin représente le voyage impossible des personnages de la pièce de théâtre Le petit frère du rameur de Kossi Efoui. Les personnages principaux sont des immigrants qui ont récemment perdu une amie qui s'est suicidée. Ils sont frustrés par le manque d'information et le manque d'intérêt accordé à cet événement tragique.. L'histoire se concentre principalement sur le manque - le manque de représentation et le manque d'espoir - pour ceux qui sont exclus d'une culture dominante. Ils sont complètement négligés par la société dans laquelle ils évoluent.
Mon dessin exprime spécifiquement l'idée de l'invisibilité. Un personnage, non identifiable, fait son propre voyage pour se transformer et s'améliorer. À la fin, il veut avoir du succès et devenir quelqu'un important. Malheureusement, il n'y a aucune différence de l'autre côté de la barrière. On ne voit pas de changements parce qu'il n'y a pas d'espoir pour une personne qui n'est pas valorisée par sa société. Les personnages principaux Marcus, Maguy et le Kid chantent, de temps en temps, Graceland, une chanson de Paul Simon dont les paroles sont poignantes et résonnent avec le sujet de l'histoire. Les personnages rêvent d'un lieu où ils pourraient vivre confortablement, mais c'est tellement hors de leur portée que cela reste de l'ordre du rêve.
"And my traveling companions
Are ghosts and empty sockets
I'm looking at ghosts and empties
But I've reason to believe
We all will be received
In Graceland"
(paroles de Graceland)
J'ai essayé dans mon dessin d'exprimer aussi ce mouvement constant vers "Graceland", vers un futur prospère. Mais en voyant le petit personnage dans l'autre côté, après tous ses actions vers une vie meilleure, rien ne change. Malgré tout ce qu'il fait, jour après jour, il reste invisible et se regarde en questionnement.
 
À propos de l'artiste 
Je m'appelle Eva Rasciauskas. J'étais étudiante à l'Université de Toronto où je faisais mes études en littérature française et anglaise, de 2016 à 2020. J'adore les livres (quelle surprise!), les arts visuels et les films, et surtout les discussions qu'engendrent ces formes d'art. Je suis ravie de faire ma maîtrise en journalisme à l'Université de Colombie Britannique l'année prochaine.